Clothes Dryer
Question Topic
Clothes Dryer (Electric) Capacity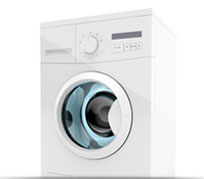 Home-Wizard™ calculates your ideal home care program to avoid problems with your Clothes Dryer, but sometimes trouble can still occur. Here are answers to questions about clothes dryer (electric) capacity.

QUESTION FROM justme7
I have a Kenmore heavy duty ultra fabric care 80 series washer/dryer. I would like to know a generalized capacity for them. I have a couple roommates who like to overload the washer/dryer. It would be nice to have a run down of what the washer/dryer is expected to clean...ex " 5 pairs of jeans, or 10 T shirts...
---

ANSWER FROM HOME-WIZARD
Dear justme7

. . . that's a good question.

To know the capacity of this particular model of washing machine, I would suggest that you contact Kenmore customer service. Here is there toll-free phone number:

1-800-549-4505

Hope this is helpful.
Home-Wizard.com