Stove Cooktop (electric)
Question Topic
Stove Cooktop (Electric) Pilot Light Issues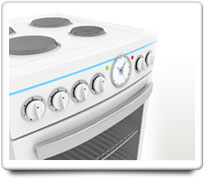 The Home Wizard app calculates your ideal home care program to avoid problems with your Stove Cooktop (electric), but sometimes trouble can still occur. Here are answers to questions about stove cooktop (electric) pilot light issues.

QUESTION FROM Ryan
I have a RFSDV42 RP propane stove. It sometimes gives a poof when it shuts down. It has been professionally cleaned and set up twice in the last two years. The pilot light keeps going out. 5 times in March and April.
Why?

ANSWER FROM HOME-WIZARD
Dear Ryan:

I assume from your model number that your gas stove is by Majestic. For the problem you are having with your pilot light, I would suggest that you contact Majestic at their toll-free number: 1-800-668-5323

Hope this is helpful.
Home-Wizard.com

Stove Cooktop (electric)
Q & A
So far, no question have been submitted yet.