Hot Tub Spa
Question Topic
Hot Tub Spa Maintenance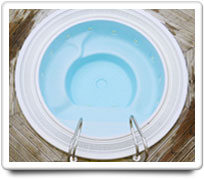 Home-Wizard™ calculates your ideal home care program to avoid problems with your Hot Tub Spa, but sometimes trouble can still occur. Here are answers to questions about hot tub spa maintenance.

QUESTION FROM Robert Glaser
I have a 500 gallon hot tub on our deck. It has two filters.

I checked the filters today and one of them had a glue-like, mucous looking covering all over the filter. what is the substance and what can I do to stop it from happening again?
---


QUESTION FROM Al Downs
I have a hot tub in my house and don't use it very often but I do keep it going year round.

My water stays crystal clear and I change water twice a year.

I get something white that grows on the jet holes throughout the tub. Can you tell me what it is and how to deal with it?
Thank you
---

ANSWER FROM HOME-WIZARD
Dear Al:

Could you please tell me a little more about this white substance that you are finding growing on your jet holes.

Is it flaky? Or is it a white-ish film on the silver parts of your jet? And are you finding this white substance just on the jets of your hot tub, or are you seeing it elsewhere as well?

Home-Wizard.com

FOLLOW-UP FROM Al Downs
It is more like a white gel, and it is only on the air holes, not the jets.
---


FOLLOW-UP FROM Al Downs
The white substance is like a gel. On one hole it has grown to about the size of a grape. We changed the water in October and it has only been used about three times since then so I don't think it is from anything in the use of the spa.
---

ANSWER FROM HOME-WIZARD
Dear Al:

I am wondering if maybe what you are describing is a build up of organic contaminants.

You might want to contact your local hot tub spa supply store, and see if they can recommend a shock treatment for your hot tub. If you can, it would be great of you could take a sample of the gel-like substance that you are seeing build up around your air holes.

Hope this is helpful.
Home-Wizard.com